Use the tabs that run along the top of the page to connect you with research on the topic. If you have questions you can chat with me or use the email link.
Black Drama

Contains approximately 1200 plays by 201 playwrights, together with detailed, fielded information on related productions, theaters, production companies, and more. The database also includes selected playbills, production photographs and other ephemera related to the plays. Some 440 of the plays are published here for the first time, including a number by major authors.

Theatre in Video

Contains more than 250 definitive performances of the world's leading plays, together with more than 100 film documentaries, online in streaming video - more than 500 hours in all. This release contains 279 titles, representing hundreds of leading playwrights, actors and directors.

Black Studies in Video

Black Studies in Video is a signature Alexander Street Press collection featuring award-winning documentaries, newsreels, interviews and archival footage surveying the evolution of black culture in the United States. In partnership with California Newsreel, the database provides unique access to their African American Classics collection, and includes films covering history, politics, art and culture, family structure, social and economic pressures, and gender relations
In Performance: Adrian Lester
Adrian Lester performs a scene from Lolita Chakrabarti's play "Red Velvet," a drama about the 19th-century black actor Ira Aldridge. The show runs through April 20 at St. Ann's Warehouse.
RAISIN IN THE SUN, A
by Lorraine Hansberry
Drama
at Ethel Barrymore Theatre
The dreams and expectations of three generations of the Younger family come into conflict as they eagerly await the arrival of a \,000 insurance check
(from 08 Mar 2014 - Closing on 15 Jun 2014)
AFTER MIDNIGHT
Conceived by Jack Viertel, music arranged by Duke Ellington, with selected text by Langston Hughes
Musical Revue
at Brooks Atkinson Theatre
Celebrates Duke Ellington's years at the famed Harlem nightclub in the 1920s and '30s, when the joint was jumping with shows featuring big band swing and blues music.
(from 18 Oct 2013 - Booking to 30 Mar 2014)
HOLLER IF YA HEAR ME
Music by Tupac Shakur, Book by Todd Kreidler
Musical
at Palace Theatre
Set in the present day on the inner-city streets of a Midwestern industrial city. The musical follows two childhood friends and their extended families as they struggle to reconcile the challenges and realities of their daily lives with their hopes, dreams and ambitions.
(from 26 May 2014 - Closing on tba)
SISTAS: THE MUSICAL
by Dorothy Marcic
Musical
at St. Luke's Theatre
After a matriarch's death, the women in the family clean Grandma's attic and find love and old memories packed away, and in the process, hit tunes that trace the history of black women, from the trials of the 1930s through the Girl Groups of the 60s to the empowerment of the 90s. Songs include 'Oh, Happy Day,' 'Mama Said,' 'I Will Survive,' 'Tyrone,' 'I am Not My Hair' and 'A Woman's Worth.'
(from 29 Sep 2011 - Booking to 30 Mar 2014)
BLACK ANGELS OVER TUSKEGEE
by Layon Gray
Drama
at Actors Temple Theater
A story told in narrative of six men embarking on a journey to become pilots in the United States Army Air Forces. The play explores their collective struggle with Jim Crow; challenging their intelligence, patriotism, brotherhood, and dreams of an inclusive and fair society.
(from 05 Jun 2010 - Closing on 22 Feb 2014)
BREAKFAST WITH MUGABE
by Fraser Grace
Drama
at Theatre Row's Lion Theatre
The place is set, food is served from the kitchen, all for a person no one can see but Robert. We are his prisoners. And if a person does not appease ngozi, he will see you to the grave. Inspired by accounts that Zimbabwe's despotic President, Robert Mugabe, sought treatment from a white psychiatrist.
(from 02 Jan 2014 - Closing on 02 Mar 2014)
FATHER COMES HOME FROM THE WARS (PARTS 1, 2 & 3)
Pat of the Public Lab series
by Suzan-Lori Parks
Drama
at Public Theater's Astor Place Theatre
Part1 introduces us to Hero, a slave who must choose whether or not to join his master on the Confederate battlefield. In part 2, a band of rebel soldiers test Hero's loyalty as the cannons approach. Part 3 finds Hero's loved ones anxiously awaiting his return.
(from 11 Mar 2014 - Closing on 30 Mar 2014)
Pamela Bloom Librarian for Theatre & Performance Studies
JavaScript disabled or chat unavailable.
Contact Info
Location: Bobst Library, Mezz.
212-998-2618
Send Email
Audra McDonald Divinely Channels Billie Holiday During 'Lady Day At Emerson's Bar & Grill' Premiere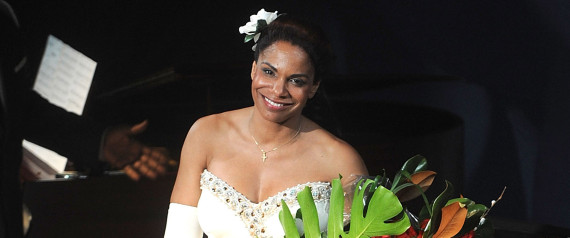 NEW YORK, NY - APRIL 13: Actress Audra McDonald appears onstage during the 'Lady Day At Emerson's Bar & Grill' opening night curtain call at Circle in the Square on April 13, 2014 in New York City. (Photo by Brad Barket/Getty Images) | Brad Barket via Getty Images
Broadway Sees Benefits of Building Black Audience
Black Americans Give Entertainment Options Failing Grades