[in]Transition

"A collaboration between MediaCommons and the SCMS's official publication, Cinema Journal, [in]Transition is the first peer-reviewed academic periodical specifically given over to videographic film and moving image studies."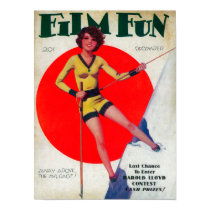 Lantern

The search and visualization platform for over 800,000 pages of digitized texts from the the histories of film, broadcasting, and recorded sound.

Entertainment Industry Magazine Archive

An archival research resource containing the essential primary sources for studying the history of the film and entertainment industries, from the era of vaudeville and silent movies through to 2000. The core US and UK trade magazines covering film, music, broadcasting and theater are all included, together with film fan magazines and music press titles. Magazines have been scanned cover-to-cover in high-resolution color, with granular indexing of all articles, covers, ads and reviews.

Victorian Popular Culture

An essential resource for the study of popular entertainment in the nineteenth and early twentieth centuries. This innovative portal invites users into the darkened halls, small backrooms and travelling venues that hosted everything from spectacular shows and bawdy burlesque, to the world of magic and spiritualist séances. ** The resource is divided into four self-contained sections: Moving Pictures, Optical Entertainments and the Advent of Cinema; Music Hall, Theatre and Popular Entertainment; Circuses, Sideshows and Freaks; Spiritualism, Sensation and Magic. **
Pamela Bloom Librarian for Theatre & Performance Studies
JavaScript disabled or chat unavailable.
Contact Info
Location: Bobst Library, Mezz.
212-998-2618
Send Email
The Moving Image Archive Program: NEWS!